Now that the season is over, people will no doubt want to cast blame on certain players. One thing this always leads to is people quoting the team's win-loss record in games that player played in. To be honest, that is a ridiculous argument considering all the elements that go into a team winning a baseball game. Still, it is pretty fun. After all, how many times did we all quote Mike Trout's win-loss record? On the flip side, how much did we mock the those who expounded the virtues of Jeff Mathis' win-loss record?
So, in the interest of equal time and, well, just for poops and giggles, here is the win-loss record for each of the main Angel players this season.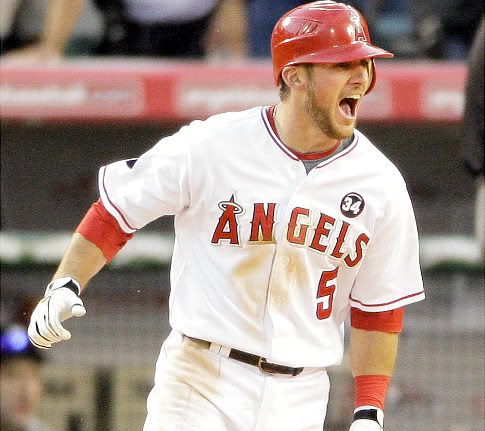 Jeff Mathis just wins ballgames… seriously.

STARTING PITCHERS
Jered Weaver: 22-11
Dan Haren: 20-15
Ervin Santana: 17-16
Joel Pineiro: 12-15
Tyler Chatwood: 9-18
Jerome Williams: 5-5
RELIEF PITCHERS
Jordan Walden: 48-14
Scott Downs: 42-18
Bobby Cassevah: 15-15
Rich Thompson: 13-31
Fernando Rodney: 23-16
Hisanori Takahashi: 24-37
CATCHERS (game started only)

Jeff Mathis: 45-34
Bobby Wilson: 17-19
Hank Conger: 24-24
INFIELDERS (game started only)
Mark Trumbo: 78-65
Howie Kendrick: 76-60
Erick Aybar: 74-68
Maicer Izturis: 53-52
Alberto Callaspo: 64-61
Russell Branyan: 9-7
OUTFIELDERS (game started only)
Torii Hunter: 80-73
Vernon Wells: 73-55
Peter Bourjos: 70-68
Bobby Abreu: 70-65
Mike Trout: 21-11
So, a few comments from these findings:
A quick editor's note, these counts might be off by one or two because I am doing this after all the wild baseball action on Wednesday, so my counting might be off.
The fact that Rich Thompson almost never pitched in a game where the Angels one blows my mind. I know he wasn't great, but he was better than Scioscia seems to think he is, which is apparently nothing more than a mop-up man.
Lyle Spencer must be ecstatic to see the win-loss records of all three catchers. I really hope nobody shares this article with him because he might never shut up.
Wait, Russ Branyan started 16 games? I would've guessed four.
You know all those games that Scioscia benched Kendrick to get more playing time for Izturis and Callaspo? Apparently that was a bad idea… which we already knew.
According to win-loss records, Vernon Wells is invaluable, thus proving how stupid this whole exercise really is.
Mike Trout = wins. This is great news for next year since he will hopefully be a full-time starter. With his expected improvement factoring in, if he starts 162 games, my math tells me that the Angels should win 185 of those games. I think I might've forgotten to carry the four though.