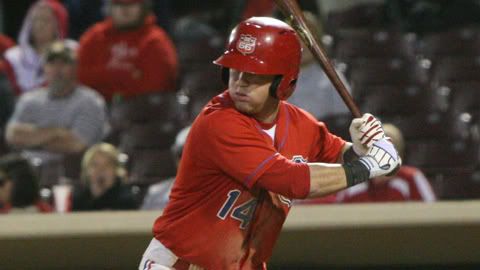 Next up on in our the MWaH/LAAI Top 30 Angels Prospect countdown is the Angels Minor League Player of the Year, Kole Calhoun.
Kole Calhoun
Position: OF/1B Level: High-A
Bats: Left Throws: Left Height: 5'10" Weight: 200 lbs.
Age: 24 Born: October 14, 1987
2011 Season Stats (High-A): 512 AB, .324 AVG, .410 OBP, .547 SLG, 36 2B, 6 3B, 22 HR, 99 RBI, 96 SO, 20 SB, 10 CS, .362 BABIP
2011 Season Stats (VWL): 97 AB, .216 AVG, .361 OBP, .371 SLG, 6 2B, 0 3B, 3 HR, 14 RBI, 24 SO, 4 SB, 1 CS
Bat – A. Hits for average, power, gap power and great discipline.
Speed – B. A good base thief with adequate defensive range despite not being overly fast.
Arm – C+. Not a great arm, but good enough to play all three OF spots.
Performance – A. Hard to argue against his numbers in High A.
Projection – B. Physical tools aren't off the charts, but beautiful lefty power stroke.
Comp – Floor: Melky Cabrera. Ceiling: Young Hideki Matsui with less power.
Estimated MLB Arrival Date: 2013/2014.
Video: Calhoun walk-off bomb.
http://youtube.com/watch?v=
ST7QNrQMC7c[/youtube]
(*As always, the above scouting report is provided by Scotty Allen of LA Angels Insider)
Season Summary: On pure stats alone, it is easy to see why Kole Calhoun was the Angels Minor League Player of the Year. Calhoun skipped straight from Rookie ball to High-A to start this season and immediately made the Angels look like geniuses for that move. There really is no other way to describe it than Calhoun absolutely raked. Amongst California Leaguers with 400+ at-bats, Calhoun was fourth in batting average, third in on-base percentage, second in slugging percentage, sixth in home runs, fifth in RBIs and seventh in runs scored. By any standard, that's pretty darn good. Calhoun even managed to swipe 20 bases despite not being a particularly good athlete.
Calhoun moved on to play in Venezuela this winter and didn't perform nearly as well, but that shouldn't be too much of a surprise given that he hasn't played above A-ball yet. If there is an encouraging sgn from his winter experience it is that Calhoun continued to draw loads of walks, a skill that could be his ticket to remaining a quality prospect as he continues to move up the organizational ladder.
What to Expect in 2012: This is the part where we have to answer the obligatory question of why it is Calhoun is ranked at just #11 despite his monster season. In a way, this becomes a Moneyball type of argument. Calhoun has put up tremendous numbers thus far, but he doesn't look like a great player. He's short. He's stocky. Hell, he's a redhead. There just isn't anything about him physically that has scouting types drooling. Until he start posting the same great numbers at higher levels, he is going to continue to have a lot of doubters.
Calhoun can erase a lot of those doubts next season when he jumps to Double-A. Facing a better grade of pitching will test Calhoun's plate discipline. Hitting in Dickey-Stephens park will force him to prove that he has not just the sweet stroke to hit homers, but also enough actual strength. To a lesser extent, he'll also have to prove that he can field well enough at first base or in the outfield to be considered more than a DH-type by the time he reaches the majors.
After such a fantastic season, it is hard to think that Calhoun could fall off too much, but given his physical tools, he really doesn't have a whole lot of margin for error. If he were to, for example, post a .270/.350/.440 slash line, it would still be perfectly acceptable, but he'd be looking at more of a career as a bench player than as Hideki Matsui OF/DH starting caliber player. As I said before, the patience appears to be for real and will be his ticket to an eventual shot at the majors, but whether or not his power survives will ultimately determine whether we remember his tremendous 2011 season as his first step to stardom or as just another Angel prospect who destroyed the California League and was never really heard from again.