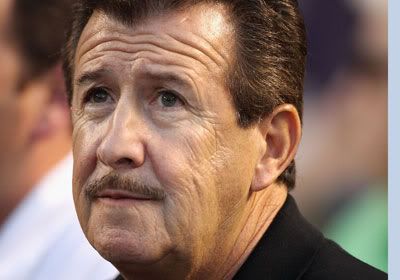 This has been a big off-season thus far for Arte Moreno. Despite being 65 years old, he seems to be learning more and more as each day goes by.
First, he learned what we already all knew, that Tony Reagins is an idiot and then fired Reagins for said idiocy.
Next, he showed a surprising newfound understanding that the status quo is NOT good enough anymore for the Angels and replaced Reagins not with some other crony from the Bill Stoneman era or a hand-picked Mike Scioscia lapdog, but rather a bright, up and coming GM from outside of the organization who was then given free reign to come in and completely clean out the Angel front office.
Having grasped those two lessons, Moreno could easily call it an off-season and look to be a much smarter baseball man for it. But it turns out that the old dog has learned one more new trick. He has learned to shut the hell up.
With all due respect to Moreno, who I believe to be one of the best owners in baseball, it is about time he finally decided to keep his public pontifications on his team's personnel decisions to a minimum. I'm all for Moreno showing passion for his team and their on-field fortunes, but we saw last off-season what can happen when he lets his emotions get the best of him.
Need I remind you of his ill-fated "big splash" proclamation right at the end of the 2010 season in which Arte made it sound as if he would spend the gross domestic product of Belgium if that is what it took to turn the Angels back into World Series contenders. It was a well intentioned, passionate statement at the time that gave the fan base hope, but seeing how he completely and totally failed to back up that tough talk, it instead wound hoisting him on his own petard.
OK, fine. Everyone is allowed one misstep, even if it was a major one. But then Arte had to go and run his mouth about how "crazy" the contract Carl Crawford got was. While he was probably right, his choice of words and the fact that he made that statement right after the Angels had basically gotten pantsed in the Crawford negotiations made it seem like he was a sore loser who had zero grasp on how free agency worked for wannabe big spenders in MLB.
He then only upped his reputation for being naive and out of touch with baseball reality when he tried to defend the team's disastrous decision to trade for Vernon Wells.
Ugh. Enough already. I'm even starting to make myself depressed.
This off-season though, it has been an entirely different story when it comes to Moreno. A very short story actually. Moreno's media appearances have been few and far between since the Halos came up short in their desperate late-season attempt to make the post-season. Once the season ended, he made a few nebulous statements about the front office before reappearing a short while later to announce that Reagins had been let go. After that, Arte emerged to introduce Jerry Dipoto as the new general manager and to declare in no uncertain terms that Dipoto had complete and total autonomy, that neither Scioscia nor himself would be meddling in his decisions.
As if he were trying to drive that point home, Moreno has since done his best impression of Punxsutawney Phil seeing his shadow and retreated back into his hole to wait out the rest of winter in isolation.
For some owners, this might be perceived as a loss of interest in his multi-million dollar plaything, but for Moreno, it is wisdom setting in. After all the public embarrassment he helped foster last off-season, he has realized that he is doing more harm than good, a realization no doubt hastened by the persistent rumors that the Angels GM vacancy was an undesirable one in part because of Arte's reputation for interjecting himself into front office matters.
Or maybe he hasn't learned any of that. Maybe he has just learned that if he is going to meddle, he should do so in private. Either way, Angel fans should be cool with it if only because the Halos won't be a punchline in the media like they were last off-season, that is unless Moreno decides to end his silence.