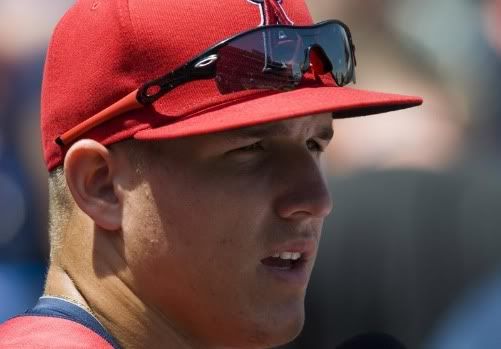 Next up on in our the MWaH/LAAI Top 30 Angels Prospect countdown is, of course, the best prospect baseball and the future of the Angels franchise. The one, the only… Mike Trout!
Mike Trout
Position: OF Level: Double-A and Majors
Bats: Right Throws: Right Height: 6'1″ Weight: 200 lbs.
Age: 20 Born: August 7, 1991
2011 Season Stats (Double-A): 353 AB, .326 AVG, .414 OBP, .544 SLG, 18 2B, 13 3B, 11 HR, 38 RBI, 76 SO, 33 SB, 10 CS, .390 BABIP
2011 Season Stats (MLB): 123 AB, .220 AVG, .281 OBP, .390 SLG, 6 2B, 0 3B, 5 HR, 16 RBI, 30 SO, 4 SB, 0 CS, .247 BABIP
2011 Season Stats (AFL): 106 AB, .245 AVG, .279 OBP, .321 SLG, 5 2B, 0 3B, 1 HR, 5 RBI, 33 SO, 3 SB, 1 CS
Bat – A. An elite bat. Solid power, contact, line drives. Struggled on high FB, but improving.
Speed – A. One of the top 5 fastest players in baseball. Great range in the OF, fast to 1B.
Arm – B. It's not overly strong but it's strong enough and always accurate.
Performance – A. Dominating in AA, struggling in MLB, but still making adjustments.
Projection – A. His skill set is unique. Could be better than Matt Kemp.
Comp – Floor: Jacoby Ellsbury. Ceiling: Matt Kemp/young Carlos Beltran.
Estimated MLB Arrival Date: Now
Video: Scouting Report Mike Trout
http://youtube.com/watch?v=
M3FbaN80GMM[/youtube]
(*As always, the above scouting report is provided by Scotty Allen of LA Angels Insider)
Season Summary: All you really need to know about how good Mike Trout's season was is this: he played in the Majors at age 19.
No, Trout did not play very well in MLB, but the fact that he was even afforded an opportunity to do so at such a young age is an amazing accomplishment. Oh, and let's not forget that NO 19-year old ever plays well in the bigs, so don't think for one second that he flopped. Trout merely suffered the struggles you expect from a teenager getting promoted to the majors without ever playing in Triple-A even. He struck out too much and his famous patience didn't fully manifest itself, but he also did not look over-matched. Was he ready for the Majors? No, but he also showed that he wasn't far off.
What prompted the Angels to call him up in the first place, despite making very explicit promises not to do so in 2011, was that he absolutely decimated the Texas League. Playing against minor leaguers typically a few years older than he was, Trout put up arguably the best numbers in the entire league. He hit for average. He hit for power. He drew tons of walks. He stole lots of bases. He also struck out a lot. That, as of right now, looks to be his one flaw. He fans a bit too much for a hitter of his supposed caliber and that proved true in his brief time with the Angels too.
Part of that is that he has some difficulty catching up to great fastballs, but in my opinion, a lot of those strikeouts are symptoms of his hellbent desire to draw walks. What I saw was a lot of Bobby Abreu in him. By that I mean he has a bad habit of taking pitches for the sake of taking pitches, almost like he made up his mind not to swing before the pitch was even thrown. That is just his youth showing and hopefully something he will get out of his system before long.
If there is any other knock on Trout, it is that he really faded down the stretch for the Angels and then didn't do very well in Arizona Fall League. That is definitely at least a tiny red flag, but again, he just turned 20 in August. The common excuse being offered though is that he just wore down from basically playing constantly since 2010 (including winter ball after the 2010 season). Hopefully that proves to be true.
What to Expect in 2012: Mike Trout will play in the Majors at some point in 2012, the question is when. Fans want him to start the season as the regular left fielder for the Halos, but all the signals coming out of the Angel offices suggest that Trout is bound for Triple-A to start the season. Personally, I think he should be starting as there is a pretty good chance that he would be one of their best four hitters and probably their best option at leadoff. But I also think that the Angels want to give Vernon Wells a chance to prove whether or not he remembered how to hit, which means stashing Trout in Salt Lake until at least June, unless one of the outfielders gets hurt.
While in Triple-A, the biggest challenge for Trout will simply be keeping himself interested. He supposedly has a great attitude, but lesser prospects have gotten bored of dominating the minors when they know that they could get a call-up to The Show at any moment. I doubt that will happen to Trout based on all the high marks he gets for character, but it is still a potential issue. And make no mistake, there is no reason for Trout not to tear apart the PCL. He posted video game numbers in a tough hitter's environment in Arkansas, so the high altitude in Salt Lake should almost ensure he puts up similar numbers despite jumping a level in competition. Actually, I wouldn't be surprised if he registers a crazy stat line like .365/.455/.600. What I do want to see though is if he continues to play center in the minors.
It is pretty clear that Peter Bourjos will be manning center field in Anaheim for the foreseeable future, meaning Trout will have to move to a corner. That was clear last year too, yet Trout still played CF in Arkansas. The sensible thing to do would be to have him play both left and right in Salt Lake, but for some reason I feel like the Halos like seeing him run around center just because he is so good at it.
The real test for Trout will be when he arrives in the bigs for good. If he gets called up soon enough, everyone expects him to win AL Rookie of the Year. But to do so, he needs to show improvement in certain areas. The strikeouts need to drop. The plate discipline he's shown in the minors needs to translate to the majors. He needs to learn to turn on inside pitches better (he made a lot of outs to the opposite field last season).
There is little reason to believe he will fail in any of these regards. Trout may have struggled in his first tour through the majors, but he did seem to learn quickly and never, ever looked lost. All he needs is time. And if he does struggle, just keep telling yourself, "he's only 20 years old."