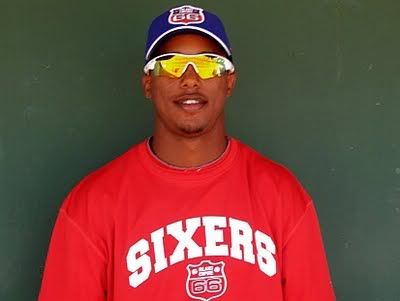 Next up on in our the MWaH/LAAI Top 30 Angels Prospect countdown the heir to the top Angels' prospect crown, slick but injury-prone infielder Jean Segura.
Jean Segura
Position: SS/2B Level: High-A
Bats: Right Throws: Right Height: 5'11" Weight: 160 lbs.
Age: 21 Born: March 17, 1990
2011 Season Stats (AZL): 30 AB, .367 AVG, .367 OBP, .600 SLG, 4 2B, 0 3B, 1 HR, 5 RBI, 3 SO, 0 SB, 0 CS, .385 BABIP
2011 Season Stats (High-A): 185 AB, .281 AVG, .337 OBP, .422 SLG, 9 2B, 4 3B, 3 HR, 21 RBI, 26 SO, 18 SB, 6 CS, .312 BABIP
2011 Season Stats (AFL): 87 AB, .310 AVG, .344 OBP, .425 SLG, 6 2B, 2 3B, 0 HR, 8 RBI, 14 SO, 5 SB, 3 CS
Bat – A-. Can hit for some power, and solid average. Not elite like Trout, but still good.
Speed – A. Above average range at SS and can steal 40+ bases with ease.
Arm – B-. Strong enough, very accurate, decent release.
Performance – B-. When he's healthy he's among the best, but has been on DL most of 2011.
Projection – B+. Could be an all-star because of offense, looks to be adequate defensively.
Comp – Floor: Maicer Izturis. Ceiling: Jose Reyes.
Estimated MLB Arrival Date: Late 2012, early 2013.
Video: Watch Segura's leaping grab
(*As always, the above scouting report is provided by Scotty Allen of LA Angels Insider)
Season Summary: The Angels fan base was all set to get excited about Jean Segura this year as he was poised to make a name for himself as an elite prospect in baseball. Unfortunately, nobody bothered to inform Segura's hamstrings.
Thanks to a severe hamstring strain, Segura managed to log just 185 at-bats for the Inland Empire 66ers (plus 30 rehab ABs for the AZL Angels). So much for that coming out party.
Jean still managed to put up solid numbers for the 66ers, but after his .829 OPS with 50 steals performance the year before in Low-A, his performance leaves for a little bit of want. To be fair, he was working his way back to health after missing so much of the season, so there is a little bit of artificial suppression of his stat line. In fact, he didn't even steal a base after he made it back from the injury in late-August, so he probably wasn't at 100% for those final two weeks of the minor league season.
The good news is that Segura is looking healthy now. He got picked to go the vaunted Arizona Fall League and more than held his own there, even getting selected to the Rising Stars game (though I think half the league gets selected for that. but still). He hit the ball well there and got back to being a base thief too.
Outside of his injury woes, the 2011 season was big for Segura since the Halos elected to move him from second base to shortstop this season. He obviously didn't get too much time there, but most scouting reports seem to agree that he is capable of holding down the fort at short, though the jury is still out on what exactly his defensive ceiling at the position is.
What to Expect in 2012: The brutal part of Segura missing so much of last season with injury is that it might've screwed up the Angels' succession plans in the middle infield. Had Jean been healthy all year, he likely would've already spent some time in Double-A and would thus be on track to play at least part of the season in Triple-A this season. From there, he would hopefully be ready to take over a starting job from either Erick Aybar or Howie Kendrick, both of whom are free agents after this season. Now though, Segura still has a shot at being big league ready in 2013 but it is a real longshot, so the Angels might have to find a stopgap replacement should Kendrick and/or Aybar walk after 2012.
Of course, none of that is really Segura's concern. What he needs to do is prove that he can give the Angels a full season because he has been in the States for four years now and only played a full schedule of games once. His MLB arrival date won't mean a damn thing if he can't stay healthy once he gets there, which is why we aren't kidding about the Maicer Izturis comparison.
Segura also has lots of proving to do defensively. There is little doubt that he can be a fine second baseman, but at shortstop, questions remain. 2011 was really his first time playing the position full-time and he only got 52 games under his belt. He received decent reviews in that time, but one-third of a season does not get him the stamp of approval to continue playing one of the most important defensive positions on the field. It also wouldn't hurt for Segura to work on his patience at the plate. He doesn't strike out much, but he doesn't walk a lot either. With his great speed, people will want him to be a leadoff hitter, but that only works if he can maintain a decent OBP.
The question now is where he will be doing all this proving? He did fine but not great in Inland Empire, but he didn't even get 200 ABs there. Is that really enough to move him to Double-A? If not, how long do they keep Segura in High-A ball before promoting him? If he does start in Double-A, will the look to aggressively push him to Triple-A in hopes of him showing he can be a MLB starter in 2013? These are big, big questions for Angel management to figure out, and seeing how Segura is their best non-Trout prospect, they will want to think long and hard about how how hard to push him lest they risk setting his development back as his balky hamstrings are already doing a fine enough job of that.