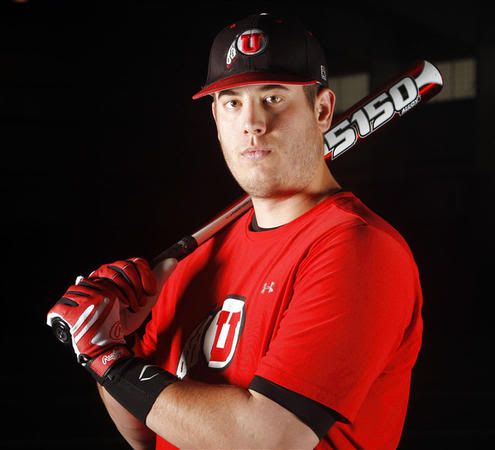 Next up on in our the MWaH/LAAI Top 30 Angels Prospect countdown is a great big kid with a great big bat (but the glove is optional), C.J. Cron.
C.J. Cron
Position: 1B/DH Level: Rookie
Bats: Right Throws: Right Height: 6'4″ Weight: 235 lbs.
Age: 21 Born: January 5, 1990
2011 Season Stats : 143 AB, .308 AVG, .371 OBP, .629 SLG, 5 2B, 1 3B, 13 HR, 41 RBI, 34 SO, 0 SB, 0 CS, .320 BABIP
Bat – A-. Can hit for power and average. Good discipline.
Speed – N/A. No reason to give 1B/DH a bad grade because of speed. Adequate.
Arm – IC. When healthy it was well above average. Shoulder surgery/rehab inevitable.
Performance – A. Tore Rookie Ball pitching apart like he should have. Great in college.
Projection – A. Will end up being the middle of the order power bat Angels yearn for
Comp – Floor: Chris Davis. Ceiling: Prince Fielder.
Estimated MLB Arrival Date: Late 2013
Video: Cron singles twice playing for the Utes.
http://youtube.com/watch?v=
prPaTLtw5Qo[/youtube]
(*As always, the above scouting report is provided by Scotty Allen of LA Angels Insider)
Season Summary: Cron was the first pick of the Angels 2011 draft. The team promised to focus more on power hitters and college players who were more major league ready, and they delivered on both counts in Cron. Arguably the best bat in the entire draft, Cron slipped to the Angels at 17th where they gladly gobbled him up even though he had been playing most of the season with a torn labrum in his right shoulder which some teams feared would require surgery. The Angels though were willing to wait if that was the case and here is why, check out his slash lines from his last two college seasons:
2010 – .431/.487/.817
2011 – .434./517/.803
Yeah, I guess that is pretty good. Like lead all college players in slugging percentage good.
The book on Cron is that he is real big guy with massive power potential and a very advanced eye at the plate. When the Angels drafted him, they sent him to Orem to test that out, delaying his potential surgery since he could still hit fine but just couldn't play the field. Cron went on to crush 13 homers in a mere 143 ABs. He just murdered Pioneer League pitching and would have led the league in slugging percentage at .629, but his season was cut short after he dislocated his kneecap.
The caveat that needs to be mentioned here is that he is a great college bat, so he should have been good in Rookie ball, and that certainly does lessen the accomplishment somewhat, but it is hard to ignore just how totally and completely he dominated the league. Whatever the gap in talent is, Cron still wound up posting video game numbers and that shouldn't just be shrugged off.
If you did want to poke holes in his season though, you could say he struck out too much and that he didn't walk quite as much as expected. Neither is a red flag issue though.
What to Expect in 2012: The good news is that Cron has thus far managed to avoid shoulder surgery, which could have kept him out four to six months, with Angel doctors instead opting for a rehab program. The bad news is that he did need knee surgery, but he will be well recovered in time for the start of the season. Still, surgery is surgery and injuries are injuries, with Cron now having two non-minor injury issues already in his career. Needless to say, a major part of judging Cron's ceiling and development will be if he can prove that these health problems are one-time things and not him being fragile despite being built like a tank. The torn labrum could become a sticky issue for sure. Since he didn't go under the knife for it, there is a chance he'll come to training camp and start having problems again. If that is the case, the Angels will either have to have him DH full-time again, or send him off for surgery and burn an entire season of development.
What Cron will also have to prove is that he has an actual factual defensive position. He did play catched some in college, but that is out of the question for him as a pro. Since then he has been nominally playing first base. That is probably his best position since he isn't all that athletic, but in case you didn't hear, that position is occuppied for the next ten years in Anaheim. Because Cron is not far from being ready for the bigs, his position is a major issue for him. I suppose the Angels could try him out in the outfield or maybe third base, but neither seem like great fits for him. Still, anything is worth a try because it would be a shame to limit such a talent to a DH role at such a young age.
As for the talent itself, there is no reason for the Halos not to push him. It might be a bit of a stretch for him to start the year in Double-A, but I would call it a disappointment if he hasn't been promoted to Double-A by the end of the year. Frankly, the more high quality pitching the better, that way he doesn't develop any bad habits from bullying around a bunch of low minors future washouts. And it certainly wouldn't hurt to get Cron to a level where guys with big fastballs can challenge him. He lacks great bat speed, so if he is going to have a big weakness, it will be against hard throwers. The sooner the Angels figure out how much a in issue, if any, he'll have with high heat, the better.