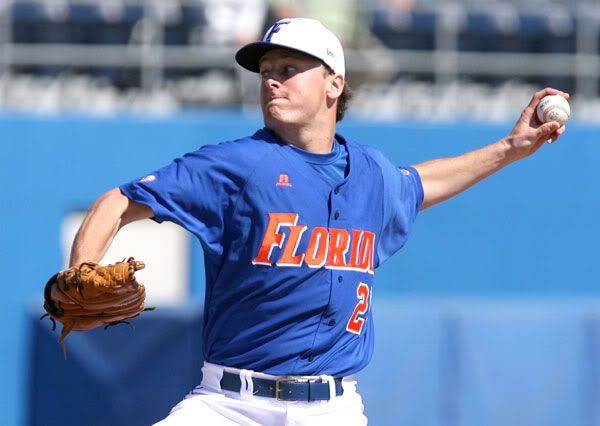 Up next in the MWaH/LAAI Top 30 Angels Prospect Countdown the Angels promising draft class keeps on giving, this time with a dynamic lefty by the name of Nick Maronde.
Nick Maronde
Position: Pitcher Level: Rookie (3rd round pick this year)
Bats: Both Throws: Left Height: 6'3″ Weight: 205 lbs.
Age: 22 Born: September 5, 1989
2011 Season Stats: 5-0, 46.1 IP, 2.14 ERA, 36 H, 5 HR, 15 BB, 50 K, 3.55 FIP, .274 BABIP, 1.53 GO/AO
Fastball – B+. Sits at 93/94 but has excellent movement. Throws hard for a lefty.
Breaking Ball – A-. Very good lefty slider, shown ability to get it over for strikes.
Change up – C+. It's already better than average, but needs a better feel for it. Rarely used.
Performance – A-. Not a lot to work off, but he's shut down hitter friendly Pioneer League.
Projection – A. Generally lefties that can reach the mid 90's with a deadly slider are aces.
Comp – Floor: Jeremy Affeldt. Ceiling: Scott Kazmir pre-2009.
Estimated MLB Arrival Date: Late 2013
Video – Maronde takes control of the inner half of the plate versus FSU batter.
http://youtube.com/watch?v=
-kClF7SYows[/youtube]
(*As always, the above scouting report is provided by Scotty Allen of LA Angels Insider)
Season Summary: Taken in this year's amateur draft in the 3rd round, the Florida product is making a very quick impression in the Angels system. The fireballing southpaw was a relief pitcher for the Gators, but the Angels realized his vast potential and immediately converted him to a starter. He had his ups and downs his first two years in Florida, but in 2011 he was an unhittable strikeout machine. That same level of success translated to the minors when Maronde took on the Pioneer League.
The transition to the rotation didn't really seem to affect him very much as his line in Orem looked just eerily similar to his college numbers and the Pioneer League is a hitter's environment, so that certainly makes his performance look even more impressive. However, as with many new draftees, his numbers need to be taken with a grain of salt since he is a college player taking on a fair number of kids fresh out of high school. Even with that, it is pretty obvious his stuff plays.
What to Expect in 2012: Maronde is poised to fly through the Angels system. He throws hard and his slider is already drawing rave reviews. In order for him to survive as a starter though, he will have to refine his changeup. It is a pitch with promise, but since he has been a reliever most of his college career, he has never really had to use it much. But any good starter needs to have a third pitch. It doesn't have to be a great pitch, but as a left-handed pitcher, he is going to need it to be good enough to keep right-handed hitters honest. If he can get that pitch up to snuff, he very well could be challenging for a rotation spot by the end of the 2013 season.
If the changeup doesn't come along for him, all hope is not lost. His slider is good enough to get right-handers out too, especially in a relief role, so he definitely has fallback option if he doesn't fit in the rotation.
It will be very interesting to see just how aggressive the Angels will be with Maronde. He'll definitely start somewhere in Single-A, but whether it is Low-A Cedar Rapirds or High-A Inland Empire remains to be seen. No matter where he starts though, he has the potential to not stay their long. If he looks as good in Single-A as he did in Orem, he has a good shot at getting to Double-A before the end of 2012.