The pitchers have already arrived in Tempe and, as of today, everyone else will have joined them. Yessir, Spring Training Angels-style is in full effect now!
Now that the gang is all here, there is some business yet to be done. Depth charts need to be sorted out. Defensive positions need to be decided. Roster spots need to be won.
We already looked at the Angel pitchers, so let's give the training camp task list treatment to all the newly arrived position players too.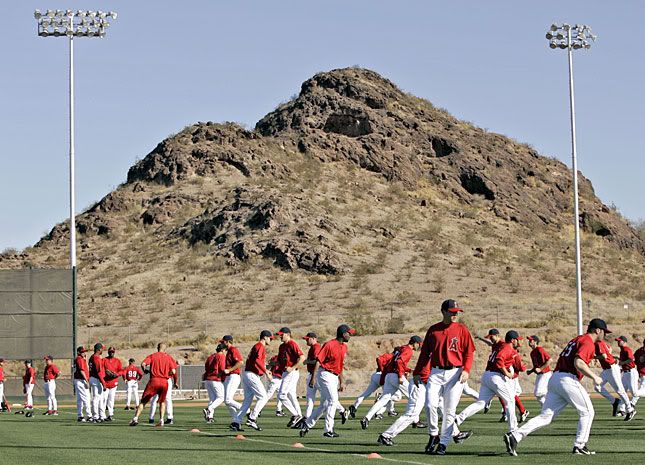 THE REGULARS
Albert Pujols – The Franchise: We're not worthy! We're not worthy!!
Howie Kendrick – The All-Star(?): He was an All-Star last year, but will he be again? His only goal in training camp is allaying any fears that last seaso was a fluke.
Erick Aybar – The Free-Agent-to-Be: Expect him to be dogged by questions about his potential contract extension all spring long.
Alberto Callaspo – The Placeholder: He isn't going to play himself out of a job, but Trumbo could (but probably won't).
Torii Hunter – The Old Dog: This training camp will be a big adjustment for Torii since he will have to learn how to prep for a season in which the entire offense won't be on his back.
Peter Bourjos – The Most Wanted: There is still going to be at least one more asinine trade rumor involving Speedy Petey before Spring Training is done. You've been warned.
Vernon Wells – The Black Sheep: He is a guaranteed regular… for the first few weeks of the season anyway. If his new swing actually works, it might be for a lot longer.
Chris Iannetta – The Anti-Mathis: After Pujols, he is probably the most popular man in camp amongst fans simply because he isn't Jeff Mathis. Let's all remember we talked about this when he finishes the season batting .204.
THE LOGJAM

Bobby Abreu – The Disgruntled: So much for that whole "he's a veteran, he'll quietly accept his role" theory. Now we are left to wonder if he will get his trade wish and if he will create anymore waves until that trade does or doesn't come.
Kendrys Morales – The Question Mark Incarnate: Yep, we get to do this dance for a second straight year. An entire fan base will be sitting on the edge of their seat waiting for updates like, "Today, Kendrys Morales ran at 75% effort for eight whole steps!!!"
Mark Trumbo – The Guinea Pig: The grand experiment at third base has begun and Trumbo has the bloody nose to show just how well it is going. Of course, he will also have to show he made progress at controlling the count at the plate if he wants this defensive shift to be worth all the trouble. He's got a lot on his plate this spring.
Maicer Izturis – The Teacher's Pet: He is blocked on the depth chart everywhere, but Scioscia will find him playing time. As always, his only real goal in camp is to not get hurt.
THE ONLY REAL POSITION BATTLE

Bobby Wilson – The Mathis of the Future: He is a very good defender, just like Mathis. He can't really hit, just like Mathis. Considering that Iannetta is a bit of a defensive question mark, Wilson is clearly going to be Scioscia's preferred choice as back-up catcher… and maybe more if Iannetta stumbles out of the gate.
Hank Conger – The Whipping Boy: Hank has a lot riding on his spring performance. Scioscia dogged his defense all of last season and is going to be looking for major improvements from Conger. If he sees them, Conger might win the back-up job and be restored to "Catcher of the Future" status. If he doesn't see them, he could be headed back to Salt Lake and the trading block.
THE 25TH MAN BATTLE ROYAL (UNLESS THEY CARRY 12 PITCHERS, IF THEY DO, THE STARTING LINEUP FOR THE SALT LAKE BEES)

Alexi Amarista – The Smurf: Hehe! He's so small!!! He also might be the ideal utility player to get the last bench job, especially since his speed makes him a perfect pinch-runner.
Andrew Romine – The Glove: The guy can field, that's for sure. If he can hit even just a tiny bit, he might get the final reserve spot. That's the theory anyway. The Angels don't exactly have a major need for a defensive specialist.
Jeremy Moore – The Raw One: Speed, defensive ability, left-handed bat, power and raw athleticism. He's got all of the physical tools, now the Angels just need to decide if he is better off honing those skills further in Triple-A or soaking in knowledge from veterans while spending a whole lot of time on the bench in the majors.
Jorge Cantu – The Salvage Project: If he can return to the form he had during his prime playing days (which weren't all that long ago), he could be a major addition. This is something that has been said about Cantu by three other teams in the last three years.
Ryan Langerhans – The Dipoto Prototype: He can draw walks. He can play great defense. He can… draw walks. He is also no threat to upset the playing time balance in the outfield while still being a viable back-up at all three outfield spots.
THE FUTURE IS LATER

Jean Segura – The Hamstring: He is only in camp for the team to see how healthy his legs are and maybe to give management a first-hand look at whether or not he really is cut out for playing shortstop.
Luis Jimenez – The Anti-Dipoto Prototype: In a lot of organizations, he would be the third baseman of the future, but he is allergic to taking pitches and that might put him on Dipoto's bad side. Lucho's job in camp is to try and convince the organization that his other tools are good enough to make him worth keeping around.
Kole Calhoun – The Overachiever: He's coming off a monster season in the minors, one that could have him on the fast track to being a big part of the future. However, he doesn't have elite tools, so this is his big opportunity to show the new front office brass what he is truly capable of.
Matt Long – The Longshot: He is a lot like Calhoun, only more so. His numbers were almost as good and he has even less to work with. This is a big evaluation period for him.
Darwin Perez – The Wild Card: He has a great glove and at times seems to have a good bat. Yet another prospect in camp so the player development folks can get a closer look.
Taylor Lindsey – The Up-and-Comer: He's a rising star in the organization, his inclusion at camp is merely a nod to that.
THE FUTURE IS STILL LATER (BUT PROBABLY SHOULD BE NOW)

Mike Trout – The Chosen One: He probably should be the team's starting left fielder and leadoff hitter. But that is going to have to wait and there is probably nothing Trout can do to change that during spring training. The best he can do is lay the groundwork for him to get the job he deserves if/when Wells fails at mid-season.
THE CATCHERS, ALL THE GLORIOUS CATCHERS!!!

Carlos Ramirez – The Other Catcher of the Future: If the whole Conger thing doesn't work out, Ramirez is next in line to be catcher of the future. His mission to win over the great and mighty Scioscia begins… wait for it… now!
Robinson Diaz – The Reverse Napoli: He was an underutilized catcher in the Ranger organization last year… and now he's ours! Payback is a bitch, Texas!!! What's that? He's hit 23 homers in six minor league seasons. Oh…. forget I said anything.
Alberto Rosario – The Warm Body: Because someone needs to catch the final three innings of a B-squad game.
Jett Bandy – The Best Name Ever: He is in camp strictly for depth purposes, and presumably for us all to enjoy how awesome his name is.
THE… UMM, WHY ARE THESE GUYS HERE?

Efren Navarro – The Most Unnecessary Defensive Replacement Ever: His only claim to ever being in the majors is that he is great defensive first baseman who can't hit at all. There is no scenario in the world in which he is deemed worthy of a bench spot on a team with Albert Pujols, Kendrys Morales and Mark Trumbo.
Doug Deeds – The Anonymous: I've literally never heard of this non-roster invitee, so I'm guessing he probably feels pretty honored to receive an invite. There is a very real chance that he will use camp to convince the organization that he deserves playing time… in Salt Lake.