I've never been so excited to write a player season preview in my life. There really is no reason to build this preview up beyond that. Ladies and gentlemen, let's talk about Albert Pujols… of the ANGELS!!!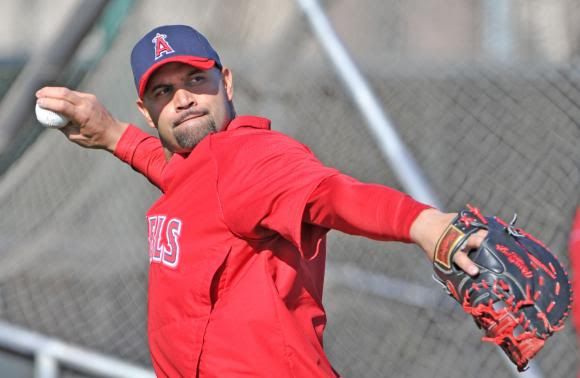 2011 Stats: 579 AB, .299 AVG, .366 OBP, .541 SLG, 105 R, 37 HR, 99 RBI, 9 SB, 1 CS, 58 K
2012 ZiPS Projections: 550 AB, .302 AVG, .388 OBP, .564 SLG, 99 R, 37 HR, 100 RBI, 11 SB, 3 CS, 67 K
2012 Bill James Projections: 592 AB, .316 AVG, .414 OBP, .591 SLG, 115 R, 41 HR, 120 RBI, 10 SB, 4 CS, 65 K
2012 CAIRO Projections: 574 AB, .311 AVG, .395 OBP, .568 SLG, 108 R, 37 HR, 110 RBI, 11 SB, 3 CS, 69 K
2012 PECOTA Projections: 697 PA, .305 AVG, .402 OBP, .556 SLG, 107 R, 37 HR, 111 RBI, 11 SB, 3 CS, 75 K
2012 MWaH Projections*: 585 AB, .305 AVG, .398 OBP, .606 SLG, 101 R, 39 HR, 114 RBI, 9 SB, 2 CS, 72 K
*The MWaH projections are simply my best guess based off my own personal opinion and research
2011 in Review: 2011 was the worst season Albert Pujols has ever had. That is a deliberately misleading statement. If you've read all or even some of Sam Miller's terrific running "Albert Pujols is an Angel" feature at the OC Register, you'd know that Albert Pujols at his worst is still better than pretty much any season any Angel has ever had. Ever.
It is also misleading to talk about 2011 being his worst season as if it is some sort of warning sign. Yes, Pujols is now officially over the hill by baseball standards, but there isn't much reason to believe that was the culprit for his "struggles." Yes, Pujols got off to a bad by his standards start to his 2011 campaign but that is only a big deal because everyone assumes that he is some sort of cyborg from the future designed to excel at baseball at all times; they don't call him "The Machine" for nothing. He has one prolonged slump in his career while playing with a tight hamstring and it comes off as a giant red flag whereas it would be just a minor concern for a lesser player.
What should make that red flag lower itself is how Pujols came out of his slump. Albert started emerging on his slump all on his lonesome in June only to have his resurgence interrupted by an arm fracture courtesy of rookie second baseman Pete Kozma airmailing a throw into the first baseline and the runner charging down it. He was supposed to miss six weeks of action. He missed 15 days and the registered an OPS of .951 or higher in each of the final three months of the season. Like I said, there is a reason they call him The Machine.
From there, Pujols went on to lead an unlikely World Series run for the St. Louis Cardinals, highlighted by Pujols posting a staggering .478/.556/.913 slash line against the Brewers in the NLCS. Again, The Machine.
Three Lingering Questions for 2012:
Is there any chance that the pressure of his mega contract will cause Albert to press? He's won three MVPs and two World Series, so he has handled immense pressure with aplomb before. But this is the first time that he will have the entire baseball world watching him because of his huge contract and the first time that he will have to deal with the negative press of the entire Cardinal fan base feeling like he stabbed them in the back. If he struggles in the slightest, is he going to know how to handle being the bad guy?
Will Pujols struggle to make the switch in leagues? He sports a 1.071 career OPS in interleague play, but facing a new slate of pitchers is not a small adjustment for even the best of players. Of course, with his dedication and work ethic, is there really any concern that he get studied up on his new competition well in advance.
What kind of impact will he have on the Angels clubhouse? Everyone is over the moon about the kind of impact Pujols will have on the field, but he is also going to have major influence on the Angels off the field. Albert is a quiet and humble man, but when he talks, people listen. The team is already in awe of his work ethic, but will his stoic all-business demeanor lead a roster that has gotten increasingly tightly-wound over the years in a healthy direction or will he just add to the problem?
What to Expect in 2012: Expect expectations and lots of them. The second Pujols signed his name on that extravagant contract the next decade of baseball became "World Series or Bust." Not one World Series over the next decade, but a World Series every single year. That's obviously a ridiculous expectation, but that is part of the package when you throw around crazy money like that. There isn't going to be a grace period for the Halos to build around him.
Those are all very team-centric things to say in a player profile, but for all intents and purposes, Pujols is the team now. No matter what his individual numbers look like, he is going to be judged by whether or not the team succeeded. Of course, how he performs will have a major impact on whether or not they do succeed. Oh, what a complicated logic circle we weave!
Even with his relative struggles in 2011, there is little reason to project anything other than greatness for Pujols. He can hit anyone, anywhere, anytime. Once again, he is The Machine. The only real quibble in regards to his performance is whether or not opponents are actually going to pitch to him. We all know that the Angel lineup isn't exactly replete with fearsome bats, so there is a chance that Pujols could be treated like Barry Bonds was in 2004, with intentional walks galore. OK, I doubt Pujols gets intentionally walked over 100 times just because the baseball world learned what a bad idea that strategy was, but there is a distinct possibility that pitchers will be more careful than normal with Albert because of who hits behind him. Right now, it looks like it will be Kendrys Morales, but who knows how effective he is going to be after not playing for almost two years? The same goes for Plan B Torii Hunter who has fallen off two years in a row.
Fortunately, studies have shown that lineup protection is essentially a myth, meaning Albert will have no problem producing at a high level no matter who is slotted in behind him. However, he might not get as many opportunities to show his greatness if pitchers don't give him anything to hit. Pujols is disciplined, so he isn't a threat to start chasing bad pitches just so he can swing the bat, so don't expect him to get greedy and get himself out like a certain other recently acquired slugger that currently haunts left field.
To me though, the most interesting aspect of Pujols' season is the effect he will have on the rest of the team. His presence affects so much it is almost beyond comprehension. He's already translated into a majors spike in ticket sales and national television coverage for the Angels. The story of him spending his first season with the Angels will no doubt dominate national headlines for the first several days, weeks or even months of the season.
He'll also influence the Halos in the clubhouse. We've already seen countless stories about how in awe the rest of the roster is at Pujols' work ethic. It is almost so inevitable that we are going to see stories at some point about how Pujols' focus and leadership pulled the Angels out of an early season slump or maybe prevented one that I feel like Angel beat writers can just go ahead and write them now so that they are ready to go when that day comes.
Most of all, I look forward to seeing what having Pujols leading the team does to the Angel Stadium crowds. Last season, it was clear that a sense of frustration was setting in. Attendance was still strong, but so was the fans' collective willingness to boo the team (mostly just Vernon Wells and Jeff Mathis) when things started going wrong. This year figures to be the exact opposite. Not only will the Angels almost certainly see record crowds, but the mood of the crowd should be somewhere between exuberant and electric. The Halos have only been an above average home team in recent years, but Pujols' presence might be exactly what the Angels fans need to be re-energized to the point that they can rival those amazing 2002 post-season Anaheim crowds, no Thundersticks required.