In need of a mentor for Jordan Walden, the Angels scooped up Jason Isringhausen from the veteran scrap heap. He doesn't even have a roster spot, but is already looking like he could play a prominent role (or two) in the Angel bullpen. Will Isringhausen prove to be a great value pick up or nothing more than a glorified bullpen coach?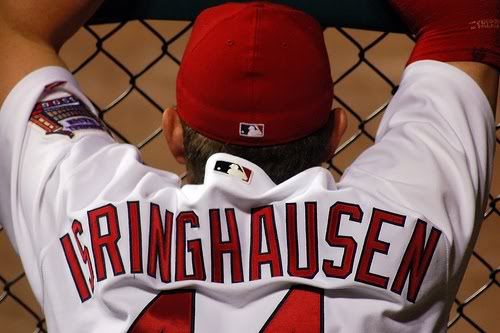 2011 Stats: 3-3, 46.2 IP, 4.05 ERA, 36 H, 24 BB, 6 HR, 44 K, 7 SV
2012 ZiPS Projections: 2-2, 25.2 IP, 4.56 ERA, 23 H, 15 BB, 3 HR, 24 K
2012 Bill James Projections: 2-2, 38.0 IP, 4.03 ERA, 32 H, 22 BB, 4 HR, 32 K, 0 SV
2012 CAIRO Projections: 3-2, 45.1 IP, 3.88 ERA, 36 H, 22 BB, 5 HR, 42 K, 0 SV
2012 PECOTA Projections: 2-1, 35.0 IP, 4.19 ERA, 31 H, 16 BB, 3 HR, 27 K, 4 SV
2012 MWaH Projections*: 2-5, 52.0 IP, 4.35 ERA, 47 H, 24 BB, 6 HR, 48 K, 3 SV
*The MWaH projections are simply my best guess based off my own personal opinion and research
2011 in Review: Most people thought Jason Isringhausen was out of baseball. He was last seen pitching for the Rays in 2009 before he blew his arm out… again. However, Isringhausen had other ideas.
Or perhaps more accurately, he had no other plans. By his own admission, Isringhausen was just sitting around his house before last season, getting bored of playing softball. He realized that his arm was actually feeling good and decided to give the Mets a call. He hooked up with them in spring training and wound up making the team even though he wasn't really prepared for the season. Despite his lack of readiness, Izzy posted ERAs under of 3.48 or better every single month of the season up until he temporarily imploded in August and had an ERA of 11.25 followed by being shutdown one week into September with a herniated disc in his back.
Before his back started acting up though, Izzy looked like his old self by going 7-for-8 on save opportunities after briefly taking over the closer gig when the Mets traded away Francisco Rodriguez. But the real value he provided the Mets was acting as a mentor for closer-in-waiting Bobby Parnell. Mets management valued his experience and mentoring ability above everything he did on the field. That's probably a good thing because even with his strong start to the season, Izzy still finished the year with a -0.4 fWAR and was not brought back to New York despite his strong ties to the team.
Three Lingering Questions for 2012:
Is Isringhausen really a lock to make the roster? The way Mike Scioscia has been talking about him, it sure sounds like he is a lock. However, Izzy did get a late start to the season and has not been sharp in the few appearances he has made. If he continues to struggle, will he be cut loose or kept aboard solely for his mentoring ability?
What will Jason's role be? He has a closer pedigree, but Walden owns that job (for now). That should put Isringhausen in a setup role, though he might have to share that with LaTroy Hawkins, who might actually be better than Jason and has just as much experience. With Isringhausen's struggles against lefties last season, he might even find himself in more specialized role if he can't correct that problem fast.
How much does Izzy have left? He got the job done in a brief stint as closer for the Mets last season and continues to defy age and injury just by still being in the league. However, his advanced metrics suggest that he is nowhere near as effective as he used to be. Can he really switch leagues and still succeed using mostly smoke and mirrors?
What to Expect in 2012: Remember that thing I said about Isringhausen posting ERAs under 3.48 all but one month last season? Yeah, that was a little misleading. It turns out that he had xFIPs over 3.48 in every month. But that too is misleading because it undersells how bad his xFIPs were since all but two of his monthly xFIPs were under 4.26. Add to that a .240 BABIP last year, far better than his career BABIP, and you have a giant "FLUKE" sign flashing in neon letters above Izzy.
Really, this is the problem I worry about with Isringhausen. Not that he got lucky last season, which he did, but that we all implicitly trust him because he, wait for it, is an experienced closer! Those pesky save totals have a nasty way of obscuring deficiencies a pitcher might have. That is an error a lot of fans make, however, it is also a mistake that Mike Scioscia has made in the past as we saw when Fernando Rodney and Brian Fuentes were both handed closing and/or setup jobs simply because they had closing experience. Isringhausen has a much more impressive resume than either of those two, making him a prime candidate to be given a bigger role than he deserves.
If Jordan Walden falters at closer, Jason is the almost certainly up next on the bullpen depth chart. That looks like it could be a mistake. It is only slightly lesser of a mistake to let Isringhausen serve in the setup role he is ticketed for now. Based on recent seasons, Isringhausen profiles more as a specialist. Last season, Izzy was roughed up by left-handed batters to the tune of a 6.50 FIP, 5.40 xFIP and .869 OPS. Those ugly platoon splits do not appear to be an aberration as he has had similar struggles the last few years as his skills have declined. As such, the Angels should be reticent to use him in any high leverage situation where he could face left-handed batters. Essentially, he is a right-handed specialist.
There is hope for Izzy though. First off, he is in better shape this year. He may have gotten a bit of a late start, but Jason stayed in shape in the off-season and is mentally and physically prepared unlike last year. At age 39 with a lengthy history of arm problems, Isringhausen needs every physical advantage he can get. Mentally though, he should be fine. In fact, that is why he was signed to begin with. Even if Jason stinks on the mound, he can atone for it by helping to coach Jordan Walden through the mental rigors of being a closer for a contender, something Waldo admittedly struggled with last season. It actually might even be better for Walden if Isringhausen under-performs since it would remove any minor threat he might feel to his job security.