He may be the least flashy of the Angels' off-season additions, but LaTroy Hawkins could prove to be one of the most important. Signed to both mentor and set-up for Jordan Walden, Hawkins carries a lot of responsibility for the success of the 2012 Angels bullpen. Is he ready for to bear that burden?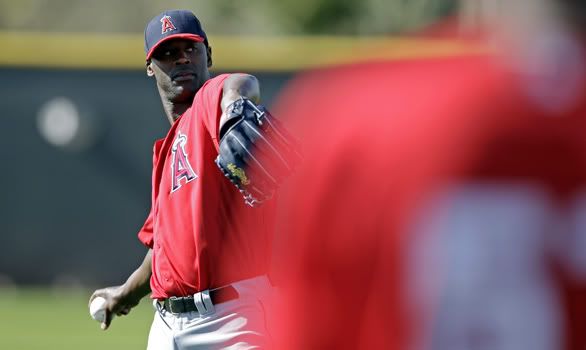 2011 Stats: 3-1, 48.1 IP, 2.42 ERA, 50 H, 10 BB, 1 HR, 28 K, 0 SV
2012 ZiPS Projections: 2-1, 35.1 IP, 4.33 ERA, 39 H, 9 BB, 3 HR, 22 K
2012 Bill James Projections: 3-2, 50.0 IP, 3.42 ERA, 50 H, 12 BB, 4 HR, 33 K, 0 SV
2012 CAIRO Projections: 2-2, 36.0 IP, 3.32 ERA, 35 H, 10 BB, 3 HR, 27 K, 3 SV
2012 PECOTA Projections: 2-1, 45.0 IP, 3.45 ERA, 44 H, 13 BB, 4 HR, 31 K, 2 SV
2012 MWaH Projections*: 2-3, 50.0 IP, 3.85 ERA, 56 H, 12 BB, 3 HR, 28 K, 0 SV
*The MWaH projections are simply my best guess based off my own personal opinion and research
2011 in Review: LaTroy Hawkins entered the 2011 season facing a pretty major obstacle. Already in his late-thirties, Hawk was coming off a 2010 season that was cut short by shoulder surgery, an operation serious enough that he wasn't fully ready to start the season until late-April. If he didn't bounce back from that surgery, it wasn't just his season that was in jeopardy, it was his career since there isn't exactly a big market for 39-year old relievers with bum shoulders.
Armed with a lesser fastball than he had most of his long, well-traveled career, Hawkins showed some real veteran guile by adjusting his approach to turn himself into less of a strikeout pitcher and more of an efficient, pitch-to-contact reliever who trusted his infielders to make the plays behind him. That is an approach he should carry over into this season, possibly with even better results since the Angels infield defense is leaps and bounds better than last year's Brewers, who had maybe one above average fielder. Even with a bunch of clanks behind him, Hawkins managed to post one of the best ERAs of his career and did so without peripherals that would suggest he lucked out, a great sign for the Halos.
What isn't a great sign for the Angels is that despite how well LaTroy performed in 2011, he never seemed to have the trust of manager Ron Roenicke, who we all know is one of Mike Scioscia's progeny. Milwaukee acquired K-Rod mid-season to knock Hawkins down a rung on the bullpen totem pole and by the time the post-season rolled around, Hawk had become nothing more than a mop-up man. He made four appearances in Milwaukee's two post-season series, all of which came with the Brewers winning by a large margin or losing. Not once did he pitch later than the seventh inning. All of which begs the question of why the Angels think he is good enough to be their right-handed setup man when he wasn't good enough to be more than an afterthought middle reliever in a much weaker Brewer bullpen?
Three Lingering Questions for 2012:
What will LaTroy's role in the bullpen be? Nominally the right-handed setup man, Hawkins will face stiff competition for that role. Might he end up being relegated strictly to Yoda of the bullpen status?
Is there concern over how durable Hawkins can be? He was ravaged by injury in 2010 and only threw 48.1 innings in 2011. At 39 years old, can Hawkins hold up to another season of normal use or will he have to be handled with care all season long?
Is he really an extreme groundball pitcher? Hawkins' main weapon in his successful 2011 campaign was his ability to induce grounders 61.7% of the time. That is miles over his career rate of 47.1% though, which makes one wonder if he can replicate his 2011 numbers. If he can't replicate that same number of grounders, can he still be effective considering how much contact he now allows at this stage of his career?
What to Expect in 2012: Those who have been reading this blog for awhile know that I have been openly pining for the Angels to add a power arm to the bullpen for months. Instead, they brought in LaTroy Hawkins. Hawk was a power arm years ago, but that isn't the case anymore, especially since his 2010 arm problems robbed his fastball of a few MPHs. But while LaTroy doesn't bring the heat anymore, he still brings a fair amount to the table. For one, Hawkins actually has good command, something no other right-handed Angel reliever can claim. His career BB/9 rate of 2.95 is pretty good, but his rate was even better, 1.86, in 2011 when LaTroy started pitching to contact more. Too often last season the Angel relievers made messes for themselves by issuing free passes. That could make him a prime candidate to be the guy Scioscia calls upon mid-inning to come in and bail the team out of a jam. It would be better if he could get a strikeout, but at least he is going to make the other team earn it by putting the ball in play.
What Hawkins can also do is induce grounders. Just how many grounders remains to be seen though. Part of LaTroy's success last year came from getting 61.7% groundballs, which is far above his career average. However, it also appears that he was making a point of pitching to contact more than he ever did, needing just 3.58 pitches per plate appearance, the best mark of his career. As such, one could assume that Hawk saw more grounders because he stopped going for the whiff. That's the theory anyway. His improvement in groundball rate is so drastic and comes so late in his career, it is hard to believe that there wasn't some degree of randomness involved. If he can sustain it, then he should be highly effective. If he drops back to career norms, then he could be in trouble. My guess is that he'll probably fall somewhere in the middle, leading to a season in which he is just barely good enough to hold onto the set-up gig, but not good enough for the Angels to prevent the Angels from seeking an upgrade at the trade deadline.
The other big concern with Hawk is his ability to hold up over an entire season. He had major shoulder surgery in 2010 which caused him to miss the first few weeks of the 2011 campaign, partly contributing to his low innings total. Considering how old he is, the threat of him suffering another injury seems like a pretty strong one. This is probably the reason that he has averaged fewer than an inning pitcher per relief appearance and only recorded more than three outs in an appearance only twice last season. He just isn't the kind of guy Scioscia can use heavily. Assuming Sosh is savvy to this, expect Hawkins to be used one inning at a time and to probably be used on back-to-back games less often than other relievers on the staff are.
At worst, Hawkins' primary role in the bullpen is going to be the Obi-Wan to Walden's Luke Skywalker. We've already seen numerous stories out of Arizona detailing how LaTroy has already taken Waldo under his wing. Hawk doesn't have a ton of experience closing games, but he has pitched in the later innings most of his career, so he does know a thing or two about pitching in high leverage situations. Frankly, LaTroy must be doing something right for him to have remained in the league for so long, so Walden would be wise to listen to him, even if Hawkins isn't getting it done on the mound himself this year.