Whether or not he plays a big role for the 2012 Angels, we all know Mike Trout is the future of the Angels, so why not preview his 2012 season as well?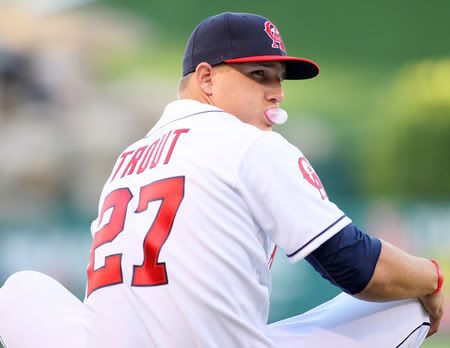 2011 Stats: 123 AB, .220 AVG, .281 OBP, .390 SLG, 20 R, 5 HR, 16 RBI, 4 SB, 0 CS, 30 K
2012 ZiPS Projections: 604 AB, .267 AVG, .338 OBP, .414 SLG, 110 R, 15 HR, 58 RBI, 39 SB, 14 CS, 136 K
2012 Bill James Projections: 272 AB, .290 AVG, .363 OBP, .478 SLG, 56 R, 9 HR, 30 RBI, 23 SB, 6 CS, 59 K
2012 CAIRO Projections: 316 AB, .242 AVG, .307 OBP, .365 SLG, 47 R, 7 HR, 29 RBI, 15 SB, 5 CS, 70 K
2012 PECOTA Projections: 183 PA, .260 AVG, .320 OBP, .383 SLG, 21 R, 3 HR, 19 RBI, 9 SB, 2 CS, 38 K
2012 MWaH Projections*: 325 AB, .265 AVG, .340 OBP, .425 SLG, 43 R, 7 HR, 28 RBI, 16 SB, 6 CS, 65 K
*The MWaH projections are simply my best guess based off my own personal opinion and research
2011 in Review: Mike Trout absolutely dominated Double-A in 2011. Like, for real, domination. His line in the Texas League, not to mention playing home games in uber-pitcher-friendly Dickey-Stephens Park, was .328/.414/.544 with 33 steals in 91 games. And he did all this at 19 years of age. Just bonkers.
We all expected Trout to have great success in Double-A, but nobody could have expected him to be so amazing, perhaps that is why the Angels backtracked on their claim that they would not call Trout up to the majors at all in 2011 (or maybe Tony Reagins was just desperate to save his job). Mike ended up getting two stints in the majors, the first came in July when he was needed as an injury replacement. Trout struggled during that brief call-up, but he also received sporadic playing time.
His second promotion, however, went a bit better. Trout started off hot in August, including a two-homer game against the Mariners (but against a pitcher who should've been in the minors) that forced Scioscia to use Trout on a more regular basis. By the time September rolled around, Trout seemed to run out of gas, managing just a .486 OPS for the month. Though he struggled, his presence did seem to spark the rest of the lineup as they had an impressive record in games started by Trout up until the final two weeks of the season when they started falling apart.
All in all, Trout's .303 wOBA left a lot to be desired, but it was also probably all one could've expected from a kid that turned 20 years old in August and completely skipped Triple-A. He definitely showed some real flashes of his potential with his power and the ability to hit the ball to all fields, but he also struck out too much and seemed to be trying too hard to make something happen rather than utilizing the plate discipline that scouts had been drooling over.
Three Lingering Questions for 2012:
When and for how long will Trout be called up to the majors? There is little doubt that Trout will begin the season in the minor leagues, but what we don't know is if/when he will get a call up to the majors. If/when such a promotion does come, will it be permanent or temporary? Most believe Trout has the talent to be a big leaguer right now, but that doesn't mean there is room on the roster for him.
Why did he struggle in his call up? Was it just the product of youth? Does he have some flaws in his profile that have been overlooked? Or was he really just worn down after a long season as we have so often been told?
How much better can Trout get with just one off-season and maybe a few months of Triple-A action? He wasn't good at all in 2011, but there is a lot of confidence in his ability to improve rapidly. Can he do that all with just having weeks of MLB experience? Does he need to play in Triple-A in order to make the needed improvements or will the PCL environment potentially teach him some bad habits?
What to Expect in 2012: I've been trying to make a point of only previewing players that are going to be on the Angel roster most of the season, I might be making an exception here with Trout since nobody knows when he is going to get a shot at sticking in the bigs. But I figured that it would be more interesting for me and you, the reader, if I wrote about wunderkind Mike Trout rather than bench fodder like Alexi Amarista or Kevin Jepsen.
From what we saw of Trout last year, spending a few weeks or months in the minors is probably necessary. His performance was inconsistent as it vacillated between over-aggression in hopes of proving his worth and patience for the sake of being patient. He also looked as if he could be overpowered by fastballs at times, though this was probably more a product of him over-thinking at the plate than it was insufficient bat speed. These are all correctable problems and Trout has a great track record of being able to make adjustments quickly.
Mike knows now how big league pitchers pitch, throwing breaking balls in fastball counts and so forth. Spending time in Salt Lake with this in mind, and little pressure to perform, might be all he needs to take the league by storm the next time he gets called up to the Show.
The one issue he can't control is when and under what circumstances he'll be called up. When put in a situation where he had to vie for playing time, Trout pressed, like most youngsters do. Sitting a few times per week probably didn't help much either, which is why the Angels would be fools to call him up unless they are certain he will be playing almost everyday. As of right now, that will only happen if Vernon Wells flops or if one of the outfielders gets hurt, and even that might not happen with Abreu and Trumbo both in place (for now). All he can do is kick ass in Triple-A and put pressure on Angel management to figure out a way to utilize him.
My best guess with Trout is that he will get his big chance by mid-season, likely due to the failings of Vernon Wells. Injuries are a real possibility too though since Wells was brittle last season, Hunter is old and Bourjos has a lingering hip problem. One way or another, the Angels are going to find a way to get him half a season's worth of playing time. That won't be enough for him to contend for Rookie of the Year, but it should be enough for Trout to establish himself as a future star and earn the trust of Mke Scioscia so that he can be moved to his rightful place atop the order before long.