So much for that return to glory I was talking about in the game preview. Instead, the Angels dug themselves even deeper into their hole, so I suppose you could call it a glory hole. If you think about it, that moniker makes sense because the Angel season is pretty much screwed now too. Wonderful.
Well, I guess we should probably be happy that Ervin Santana pitched well, but these searches for silver linings are proving more and more fruitless. I mean, what is the point? Why should I try and stay positive about a team that just got shutdown by Derek Lowe, who apparently is still in the league, which I did not realize. Why should I try and stay positive about a team that loses in new and creative ways every day? Ervin Santana finally doesn't give up a homer, but he still loses because Torii Hunter loses a ball in the sun?1?!?! Really? REALLY?!?! REALLY?!?!?!?!?!?!!!?!!??!
I give up.
Game Notes

Ervin Santana definitely seemed to get back on track today, which is great news because it means there is now one less problem on the Angels checklist to worry about. One down, 378 to go.
It is nice to see that Kevin Jepsen hasn't lost his gascan yet. I'd question why he is still even on the roster, but then I realized that it would require the Angels to have an alternative to him somewhere in their farm system, which they don't. Thanks again, Tony Reagins, your brilliant development of minor league talent is like the gift that never started giving.
Would anyone really be opposed to Maicer Izturis taking over as the primary shortstop for a little while? At some point some of the players who aren't producing need to be benched for those that are. But that would be more lineups, which I am against. Ugh, I can't even get my head around trying to find solutions for this team anymore.

Halo A-hole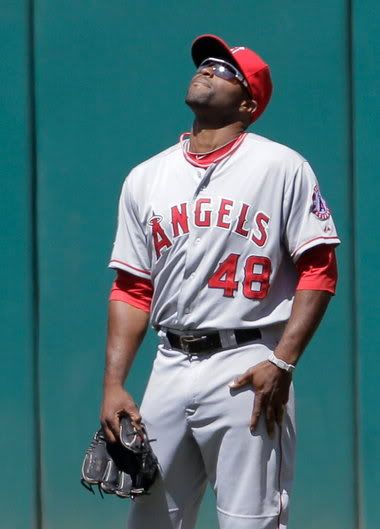 Torii was probably the best Angel this series, but that dropped flyball killed them in this one. Or maybe not, I have the feeling that the Angels wouldn't have scored at all today, even if the game went 29 innings.